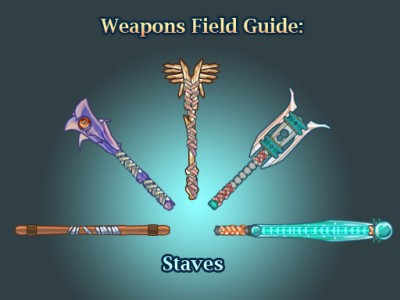 Staves are long tools used to cast certain spells and increase magic, defence, recoil, critical chance, and many others. Staves are mainly used by 'mages'.
Staff skills
Edit
| Skill level | Name | Ap | Ingame Description | Effects |
| --- | --- | --- | --- | --- |
| 1 | Swing | 1 | A basic attack involving a two handed swing | N/A |
| 4 | Defensive poke | 3 | A forward stab with a stave to keep foes at a distance | 100% recoil |
| 8 | Wild Swing | 6 | An incredibly broad swing that will hopefully knock out the opponent | 10% immobile 75% recoil |
| 14 | Energy Burst | 8 | Energy is Channeled through the weapon into an explosion at the tip | 75% recoil |
To craft a staff you need a template and the appropriate material. The name and the bases stats of the staff depends on the material used and on your level in smithing skill.
You really don't need to use magic or have any magic stats at all to use a staff. Magic users just prefer using staffs since most increase magic and some spells require staffs. But melee users are welcome to use these too, since as you can see, the goliath rib staff decreases magic and has a pretty good melee stat(but I would recommend the 2h sword instead). Also, magic users can also use any other weapon to use magic...and that includes fisticuffs. So if you were to use a bow and magic but you want to have range armor, you could simply infuse the armor with silkweb/cotton fiber, gems, or yggdrasil bark to get mp regen(see infusers for further info), you could have decent stats for both.
Community content is available under
CC-BY-SA
unless otherwise noted.